TRENDnet AC1750 Dual Band PoE Access Point / Access Point
(450 Mbps & 1.3 Gbps)
$149.99
Product Description
TRENDnet AC1750 Dual Band PoE Access Point / Access Point
* Please check with your carrier for compatibility prior to purchasing.
Equip your business with a manageable and cost-effective AC1750 wireless network with TRENDnet's AC1750 Dual Band PoE+ Access Point, model TEW-825DAP. Broadcast concurrent 1300 Mbps WiFi AC and 450 Mbps WiFi N networks. Relieve congestion and overcrowding on the 2.4 GHz band by employing band steer technology. Power the access point with the included AC adapter, or connect via PoE+ for installation flexibility. The low-profile design blends into most environments and includes a convenient ceiling / wall mounting plate.

Main uses:
Range Extender: Extends the range of an existing Wi-Fi network or hotspot
Access Point / Wired Network Converter: Provides wireless network connectivity to wired Ethernet devices
Wireless Bridge: Wirelessly connects 2 or more network segments
Minimize Mobile Broadband Data Consumption: In areas where public Wi-Fi is available (and/or Mobile Broadband is not) simply connect the Range Extender to the Mobile Broadband Router (i.e. Cradlepoint Routers), and switch your internet source from Mobile Broadband to Public Wi-Fi without changing settings on multiple connected laptops, smartphones, etc.

Features:
1 x PoE+ Gigabit LAN port
Power port (optional non-PoE installation)
Reset button
LED indicators
Mounting plate
IP30 rated housing (with mounting plate installed)
Concurrent Dual band
Band Steering
WiFi traffic shaping
802.1Q VLAN assignment per SSID
IPv6 support (Link-Local, Static IPv6, Auto-Configuration (SLAAC / DHCPv6)
Multi-Language interface, English, French, Spanish, German, Russian
LEDs on / off
Captive Portal (Coovachilli)
Package Contents:
TEW-825DAP
Quick Installation Guide
CD-ROM (User's Guide)
Network cable (1.5 m/5 ft.)
Power adapter (12 V DC, 2 A)
Mounting plate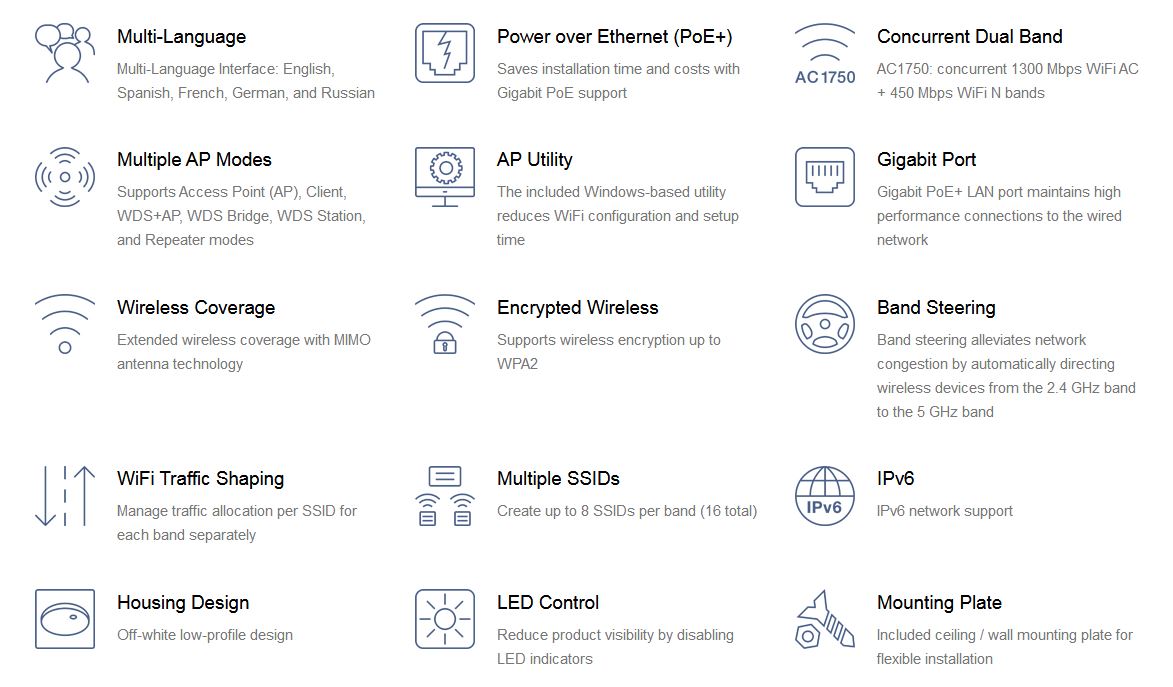 Compatibility
ACER
Alcatel
Amazon
APPLE
ASUS
AT&T
AUDIOVOX
BLACKBERRY
BLU
CASIO
CAT
CINGULAR
Coolpad
Cricket / AT&T
DANGER
DELL
ERICSSON
GARMIN
GlobalStar
GOOGLE
HITACHI
HP
HTC
HUAWEI
Inmarsat
Iridium
KYOCERA
LENOVO
LG
Meizu
Microsoft
MOTOROLA
NEC
NetGear
NOKIA
Novatel Wireless
OnePlus
Oppo
PALM
PANASONIC
PANTECH
PCD
QUALCOMM
SAMSUNG
SANYO
SHARP
SIEMENS
Sierra Wireless
SONIM
SONY
Sony Ericsson
SPRINT
SYMBOL
T-MOBILE
TCL
TOSHIBA
VERIZON
Verizon Wireless
ZTE