FAQ
CLICK ON THE QUESTION TO JUMP TO THE ANSWER
Order Process
Finding Products
Product Manufacturers
Batteries
Car Kits
Cases
Chargers
Data Solutions
Headsets
When will my order be shipped?
Answer:
All in-stock items are shipped the same day. If your order is not available we will inform you of the delay. In most cases this will be within 1-2 days.

---
How long will it take for my order to be delivered to me with standard shipping?
Answer:
To view the approximate length of time for your package to arrive via UPS Ground (our standard service) from Redondo Beach, California, click here.


---
What shipping options do you offer?
Answer:
Please visit our Shipping Information Page.
---
How do I return/exchange an item and what is your return/exchange policy?
Answer:
Our goal with returns is simple: to efficiently address your return or exchange. The following represents the policy and procedures for product returns to Cellular Accessories For Less.
CAFL requires a Return Authorization Number for exchange or credit for a period of 30 days from original ship date for product(s) that are defective or unnecessary. Beyond 30 days from shipping, we will honor most manufacturers' 1-year factory warranty. All components (instruction booklets, cables, etc.) of original order MUST be returned for credit. Products and packaging should be free of blemishes, visible marks or damage. Please note that software cannot be returned once it has been opened. Please be sure to include a copy of your invoice or packing slip whenever shipping anything to CAFL.
Customers shall pay freight for any return packages for repair or exchange. A credit for the in-bound shipping will be applied to your account when applicable. If a product is being returned after the 30-day period, the customer is responsible for all shipping charges. Products erroneously shipped by CAFL may be returned with no shipping fees incurred.
A request for a Return Authorization Number must be made through CAFL.
A restocking fee of 25% will be applied for items returned beyond the 30 day (up to 60 days maximum). There are no returns after 60 days.
The RA number provided by CAFL must be provided within and outside the container.
Please contact CAFL with any questions or concerns regarding your return and/or exchange. We will attempt to make arrangements for your unique needs.
As a service to our customers, we act as a warranty center for many major manufacturers. We can assist you in getting manufacturers' warranty and repair assistance when needed.
Cellular Phone Returns & Repairs: Defective phones will be replaced within 30 days of sale or if there are less than 30 lifetime minutes on the phone, whichever comes first. Damaged phones will be sent for repair, where fees may incur. Phones are subject to manufacturers warranty.
We appreciate your understanding that with Special Orders (products we do not normally stock and have to order specifically for that order), all sales are final.
Terms and conditions are subject to change without notice.
---
What is your mailing address for billing and correspondence?
Answer:
Our mailing address for billing, returns and correspondence is:
Cellular Accessories for Less
2110 Artesia Blvd. Suite B707
Redondo Beach, CA 90278
---
What is your privacy policy?
Answer:
Cellular Accessories For Less is committed to your privacy. We do not and will not sell, loan, or disburse your personal information. Any information you provide is solely used to process and fulfill your order. Cellular Accessories For Less does not share your information with any third parties and is committed to protecting your rights as a consumer; we respect and protect your privacy.

Our site is a safe environment for anyone to visit and shop. We have developed this statement to demonstrate our firm commitment to your privacy and security. We are also committed to providing you outstanding customer service and the best available products. Information is collected for the sole purpose of making Cellular Accessories For Less and Cellularforless.com a better place to shop online.


---
How do I determine my phone model?
Answer:
There are several ways to determine the type of phone model you own:
LOOK ON THE BACK OF THE PHONE - Remove the battery from the back of your phone. The phone model number and manufacturer - Nokia, Ericsson, etc. - should be displayed on the back of the phone.

FIND THE PHONE BY ACCESSORY - If you cannot find your model type on the back of the phone, you can try searching by the part number on one of your accessories, such as a battery or charger. Our website will display all phones compatible with that part - one of them will be yours.

FIND PHONE BY PICTURE - Choose the manufacturer of your phone on the left column. Underneath the pull-down menu click on the option to view all phones by picture.

STILL HAVING DIFFICULTY? - Please contact us and we will be glad to assist you
If you do not see your phone listed, please contact us at sales@cellularforless.com and we will be glad to assist you.


---
I don't see my phone model. What do I do now?
Answer:
If you do not see your phone listed, please contact us at sales@cellularforless.com and we will be glad to assist you.


---
How do I know if my phone needs an adapter for a specific headset?
Answer:
Click on headset picture to view compatibility. If you are still unsure, contact us.


---
I am interested in an accessory that I cannot find on your site - what should I do?
Answer:
Simply go to our Special Orders page. Fill out the form and send it to us. We will contact you with the availability of your request in a timely manner.


---
How can I determine my iPad/iPhone model?
Answer:
Our site is searchable by the iPad or iPhone model number listed on the back of your device. For instance, on the back of your iPad Pro you may see a number that looks like this: A1673
---
What is the difference between an OEM (Original Equipment Manufacturer) product vs. an after market one?
Answer:
After market products are high quality, economical alternatives to those made by the original manufacturer. After market products have excellent warranties and offer creative options sometimes not offered by the manufacturer.


---
I received a pouch case that is made by a different manufacturer than my phone. For example, a BlackBerry case for my iPhone. Is this a mistake?
Answer:
Our goal is to offer the best quality cases available for your device, regardless of who makes it. There are hundreds of case manufacturers in the industry (Case-Mate, Incipio, BlackBerry, Samsung, etc.) so you will see a wide variety listed for your phone model. If we only offered Apple cases for Apple phones, the selection would be very limited. Please rest assured - if our website says a case is compatible with your phone, it has been tested and will fit perfectly.
---
Is the form-fitted case/skin I purchased for my cell phone compatible with an additional pouch case?
Answer:
To allow you to use a case/skin combination, please contact us to ensure 100% compatibility. While we aim to label your options on the site, we can provide assistance when ever it is not 100% clear. Some Apple iPhone 4 cases/skins can restrict access to the charger port, please contact us at 310-220-2250 for complete compatibility.
What types of cases do you offer and how do they differ?
Here is a break down of the different types of cases you will find on our site:
---
How do I transfer contacts, calendar, pictures, and other data between my phone and a computer?
Answer:
Many phones offer a data cable and software that will allow you to connect your phone to your computer so you can transfer data. Some phones allow you to transfer data via Bluetooth wireless technology or infrared parts. If you have any confusion on this topic, please contact us and we will be happy to assist you.


---
How can I use my phone as a modem?
Answer:
Many phones are capable of acting as an external dial-out modem by using a data cable, software, bluetooth or infrared. For more information on this please contact us.
---
Do you offer SIM Card Readers? How do they compare to other data solutions?
Answer:
We can special order SIM Card Readers however they have limited functionality so we do not recommend them for transferring contacts between phones. They can only store one phone number per contact so any additional numbers, email address, etc. will not be transferred. Data kits are usually the best solution because they can transfer all contact information and provide added functionality such as calendar sync, multimedia transfer, and wireless Internet connectivity for your PC. Please contact us to determine the best data solution for your phone.
---
How long do batteries last before they need to be replaced? Can I do anything to prolong their lifespan?
Answer:
Most batteries will last at least 2 years before the performance and capacity decreases. As a general rule - the fewer times you charge it, the longer it will last, so conserving your battery power will help prolong it's lifespan. Here are some techniques to conserve and preserve:
1) Avoid running the battery all the way down. Most Lithium Ion batteries will last between 300 and 500 charges, but if you let the battery run down too much before charging, that can hurt its lifespan. It's better to keep it fully charged as much as possible. So, if you're at home and near the phone's charger, plug it in! With Lithium Ion batteries, you cannot overcharge ... There's still a lot of confusion about that, from the days when nickel-based batteries were used in phones and had to be fully discharged once in a while to condition the battery.

2) Heat – especially in the car — is not your battery's friend. It affects the battery's storage capacity and is one of the elements that shortens lifespan the most, so don't leave your cell phone on the dash or in the glove box on warm days.

3) To conserve battery power, you can turn off the Bluetooth, GPS, Wi-Fi and 3G radios in your phone when you're not using them, and dim the backlight on the phone's screen.

4) Turn off "push e-mail," that is delivered to you as it is sent, and instead manually check for new e-mail. The more frequently e-mail or other data is fetched, the faster your battery will drain.

5) And here's one for frequent fliers... When you get further and further away from a cell tower, the harder your phone tries to find a signal and thus, the more battery power it uses. When you're 30,000 feet in the air, you can't get a signal because all the ground-based towers are out of range. Turning your cell phone off when you're in the air will do wonders for conserving battery life.

While these steps can help you prolong the lifespan of your battery, we all have to determine if the ends justify the means.

---
What is the difference between a battery's talk time and stand by time?
Answer:
Talk time (TT) refers to the amount of time available when you are actually using your phone. Stand-by time (ST) refers to the time when your phone is turned on but not in use.

---
How do I choose the right Portable Power solution for my needs?
Answer:
Portable Power products are designed to keep your smartphone and other devices charged and connected wherever you are.
Benefits of Portable Power:
Emergency power boost to your phone or other device on-the-go
Charge your phone or device while traveling – no need to find a power outlet
Use your phone or device for up to 6 times longer than your battery alone permits
Universal compatibility with virtually any device that has a USB Cable
How to Choose the Best Portable Solution for your Needs:
Identify the phone or device you need to charge on the go: We offer solutions that provide a quick charge for one device, and solutions that are compatible with any device that has a USB Cable. If you only require a charge for your phone, use an Apple-specific or micro-USB specific product. If you are looking for a universal solution that you can use to charge more devices, including tablets, use a portable solution that features USB ports.
Identify how long your device needs portable power: The battery capacity for most smartphones is about 1500mAh. A portable power solution with a capacity of 1500 mAh will provide about one additional battery cycle for your phone. To be sure, check the capacity of your phone's battery on your phone's accessory page. The higher the mAh, the larger the power capacity of the solution, and the longer you will be able to use your phone or device.
Consider the size of the portable power solution: Smaller devices like the Naztech or Lenmar portable batteries are perfect for a quick charge on the go, and can slide easily into a purse or pocket. The universal solutions are larger (to accommodate larger battery capacity) and are ideal for long journeys and charging multiple devices.
---
---
Explain the difference between a complete hands free kit, a portable hands free kit and a headset
Answer:
Headsets are the most popular way to use your phone hands-free. There are three different styles to choose from: 1) a small ear bud that fits into your ear with a microphone on the cord, 2) an earpiece that fits over your ear with a boom microphone, or 3) an over-the-head headset with a boom microphone.

Car kits are either portable or installed.

Portable: The single unit hands-free kit includes the speaker and microphone. It plugs into your vehicle's cigarette lighter port. Not only will you have hands-free talking, but your phone will also be charging. These kits are easily transferable from car to car.

Installed: Complete hands-free kits require professional installation into your car. These kits include a phone cradle, speaker, external microphone and all necessary wiring. The kit is connected to an external antenna (sold separately), which provides enhanced reception. Some kits have the option for a privacy handset.


---
If I order a car kit do I need any additional parts?
Answer:
You will need to order a mount and an antenna. The mount attaches the phone holder to a convenient location in your vehicle. The antenna is placed on the outside of the car and provides enhanced reception. You will be prompted to order both during the checkout phase of your online transaction. If you have any questions about this, please contact us.


---
Do you install car kits?
Answer:
We can arrange an installation in the greater Los Angeles area for approximately $100.


---
What is Multipoint Technology?
Answer:
Multipoint Technology allows you to connect a Bluetooth headset to multiple devices simultaneously. This is beneficial if (for example) you have a business phone and personal phone and want to use the same headset for both.


---
What does it mean to pair a Bluetooth headset with a phone? If a headset can pair with multiple phones, how does that differ from Multipoint Technology?
Answer:
All Bluetooth headsets must be paired with a phone before it will work. This process allows both devices to recognize each other and gives them the ability to connect. In order to actually use the headset, it must be connected to the phone. This will usually happen automatically when both devices are turned on and within 33 feet of each other. Many Bluetooth headsets can be paired with multiple phones but only connected to one at a time. The headset will automatically connect to this first paired phone that comes within range and remain connected until it is out of range or one of the devices is turned off. Some headsets have Multipoint Technology that allows them to connect to multiple phones simultaneously.


---
What are Bluetooth versions?
Answer:
Bluetooth is an evolving wireless technology and there have been several improvements on its effectiveness. Different versions reflect ongoing technological improvements that typically relate to efficiency, signal quality and usability.
Compatibility
For cell phones, different Bluetooth versions do not change device compatibility.
Any Bluetooth headset will work with any Bluetooth phone, regardless of the version
Bluetooth v1.0 and v1.0B
The first Bluetooth versions
Limited release in the cell phone market
Various problems and compatibility issues
Bluetooth v1.1
Essentially debugged version v1.0 and solved pairing and audio problems
Almost all of the first Bluetooth headsets were v1.1
Bluetooth v1.2
Headsets with v1.2 hit the market around Q2 2005
Adaptive Frequency-Hopping (AFH) - Reduces interference from other devices by avoiding crowded frequencies
Higher transmission speeds
Extended Synchronous Connections (eSCO) - Improves audio quality by re-transmitting corrupted signals
Host Controller Interface (HCI) - Allows for faster pairing
Bluetooth v2.0
Headsets with v2.0 hit the market in Q2 2006
Enhanced Data Rate (EDR) - Provides faster transmission speeds, lower power consumption, simplification of multi-link scenarios, and further improved BER (bit error rate) performance
Bluetooth v2.1
Extended inquiry response: provides more information during the inquiry procedure to allow better filtering of devices before connection. This information includes the name of the device, a list of services the device supports, plus other information like the time of day and pairing information.
Sniff subrating: reduces the power consumption when devices are in the sniff low-power mode, especially on links with asymmetric data flows.
Encryption Pause Resume: enables an encryption key to be refreshed, enabling much stronger encryption for connections that stay up for longer than 23.3 hours (one Bluetooth day).
Secure Simple Pairing: radically improves the pairing experience for Bluetooth devices, while increasing the use and strength of security. It is expected that this feature will significantly increase the use of Bluetooth.
Near Field Communication (NFC) cooperation: automatic creation of secure Bluetooth connections when NFC radio interface is also available. This functionality is part of the Secure Simple Pairing where NFC is one way of exchanging pairing information. For example, a headset should be paired with a Bluetooth 2.1 phone including NFC just by bringing the two devices close to each other (a few centimeters). Another example is automatic uploading of photos from a mobile phone or camera to a digital picture frame just by bringing the phone or camera close to the frame.
---
Do you offer handsfree devices for hearing aid users?
Answer:
We can special order the following Bluetooth neckloops that are compatible with telecoil-equipped hearing aids and any Bluetooth-enabled phone. They wirelessly transmit the audio from your phone directly to the hearing aid and a microphone picks up your voice and wirelessly transmits it to the phone, so no additional parts are required for handsfree conversations. Follow the links for more details.
Linear Blue SLC: $119.99
ClearSounds Quattro: $159.99
(Features a 3.5mm audio jack and the A2DP Stereo Bluetooth profile so you can also use it for music)
We also have a limited quantity of this GN Netcom corded model.


---

What does MFi Certified mean?



You may notice that many of the charging accessories we offer for Apple iPhone and iPad are marked "MFi Certified." MFi stands for Made for iPhone or Made for iPad. This label means that the product has been engineered and certified to be compatible with Apple devices. Apple has created special compatibility requirements for manufacturers that they must meet in order to be granted the MFi or Apple Certified label. Unlike some after market products, MFi Apple Certified products are guaranteed to be compatible with all Apple Lightning devices and versions of iOS – past, present, and future.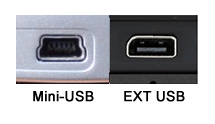 ---
I need to charge my phone in another country. Can I use my regular travel charger or do I need to convert the plug and/or voltage?
Answer:
There are 2 issues:

1) Different countries use different plugs
2) The voltage may be different. US electrical outlets use 120 volts. International outlets typically use 240 volts.

#1 is easily solved by getting the International Prong Adapter Kit. The adapters slide over US plugs so they will fit into international outlets.

#2 is rarely an issue because nearly all travel chargers sold today have a 120V-240V voltage range so it will automatically adjust to the different outlets. You can confirm this by looking at the writing on the charger - it should say "120V-240V" or greater.
---
Answer:
An inverter is a device that changes direct current (DC) into alternating current (AC).
The size you choose will depend on the wattage of the appliance or tool you want to run (find the power consumption by referring to the specification plate on the appliance or tool).
Example: You need to power a laptop and a phone charger.
-Laptop: 90W
-Phone Charger: 30W
-Total Needed: 120W
For this application you would need a 120-Watt inverter.
---
Answer:
The "continuous wattage" is the wattage the inverter can supply 24/7 as long as the DC input power supply is in good condition (usually, the DC power supply is a car battery). The "peak surge wattage" is the maximum wattage the inverter can supply for a very short period of time (a split second) in order to provide the initial "surge" required to start some devices.
---