Wilson weBoost Drive Reach Overland Mobile Signal Booster Kit
For Overland and Off-Road Vehicles
$549.99
Product Description
Wilson weBoost Drive Reach Overland Mobile Signal Booster Kit
The Drive Reach Overland is the newest in-vehicle cell phone signal booster, specially designed for overland and off-road vehicles. The Drive Reach Overland sports a durable, all-weather omni antenna, providing maximum connectivity for when off the beaten path. Overlanding enthusiasts will appreciate the versatile mounting hardware – enabling them to attach the outside antenna in multiple ways. The outside antenna can also be folded down for when a vehicle is stored inside.
The Drive Reach Overland enhances all available network signals up to 32x. Drivers experience fewer lost connections and dead zones, better audio quality, and faster data uploads and downloads with this new signal booster. All components needed for installation come in one package. The Drive Reach Overland works with all cellular devices and all US carriers. Features:
FEATURES
Maximizes cell signal for overland and off-road vehicles.
Comes with an expertly engineered, versatile mounting bracket that can attach to the vehicle using a T-slot, pole, or fixed mounting.
Offers an adjustable outside antenna that can be easily folded down for garage storage.
Designed for multiple devices and users.
Works on ALL cellular devices and ALL carriers simultaneously.
Enhances talk, text, and high-speed data internet while off-roading.
INCLUDED PARTS
weBoost Drive Reach 12V Amp
Overland Antenna (311248)
13-inch Mast Extension
Overland Mount (901168)
Inside Antenna (314401)
CLA Power Supply (850029)
LMR-195 Cable (951114)
Coax Cable Side Exit Adapter
Antenna Spring
Thread Lock Packets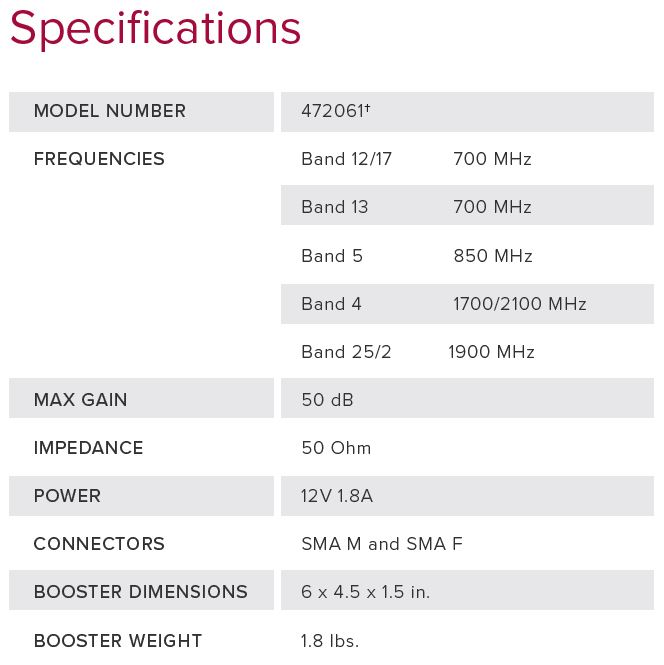 Specifications
Band: 12, 13, and 17 - 700 Mhz; Band 5 - 850 Mhz; Band 4 - 1700/2100 Mhz; Band 25/2 - 1900 Mhz
Max Gain: 50 dB
Impedance: 50 Ohms
Power Req: 12V 1.8A
Booster Dimensions: 6 x 4.5 x 1.5 in
Booster Weight: 1.8 lbs
Connectors: SMA M and SMA F
FCC NOTICE:
This is a CONSUMER device.
BEFORE USE, you MUST REGISTER THIS DEVICE with your wireless provider and have your provider's consent. Most wireless providers consent to the use of signal boosters. Some providers may not consent to the use of this device on their network. If you are unsure, contact your provider. You MUST operate this device with approved antennas and cables as specified by the manufacturer. Antennas MUST be installed at least 20 cm (8 inches) from any person. You MUST cease operating this device immediately if requested by FCC or a licensed wireless service provider.
Compatibility
Alcatel
Amazon
APPLE
ASUS
AT&T
AUDIOVOX
BLACKBERRY
BLU
CASIO
CAT
CINGULAR
Coolpad
DANGER
DELL
ERICSSON
GARMIN
GOOGLE
HITACHI
HP
HTC
HUAWEI
KYOCERA
LG
Meizu
Microsoft
MOTOROLA
NEC
NetGear
NOKIA
Novatel Wireless
OnePlus
Oppo
PALM
PANASONIC
PANTECH
PCD
QUALCOMM
SAMSUNG
SANYO
SHARP
SIEMENS
Sierra Wireless
SONIM
SONY
Sony Ericsson
SPRINT
T-MOBILE
TOSHIBA
VERIZON
ZTE