weBoost Drive Sleek Cradle Booster Kit
$199.99
Product Description
weBoost Drive Sleek Cradle Booster Kit
Strengthen your cell phone's data and voice connection with weBoost's latest cradle booster - the Drive Sleek, our most powerful and versatile 4G cradle cellular signal booster for vehicles. Use the Drive Sleek in your car, truck or any other vehicle to keep you connected. Place your phone in the cradle and get up to 32 times better cell coverage! Stronger signal means faster data speeds, clearer calls and even better battery life in weak-signal areas.
Here's how it works...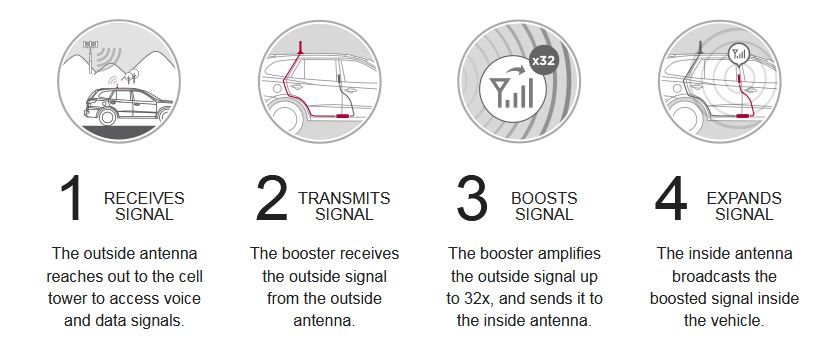 What Gets Amplified?
Voice Calls = Yes
2G / 3G Data = Yes
4G Data = Yes
Features and Benefits
Boosts 4G, 3G, & 2G signals on all major carrier networks in North America
Reduces dropped calls, extends signal range, and increases data rates
Built in amplifier boosts signals to and from cell site
Boosts both voice and data communications
Faster, cleaner 3G & 4G data transfers
Included Parts
All-in-one booster, built-in antenna and cradle combo
Outside vehicular-mount antenna
Cigarette lighter power adapter
Vehicle dash adhesive mounting bracket & Adjustable Arms
Installation guide
Specifications
Frequency:
Band 12/17 - 700 MHz
Band 13 - 700 MHz
Band 5 - 850 MHz
Band 4 - 1700 MHz
Band 25/2 - 1900 MHz
Max Gain: 23 dB
Power Req: 5.5V /2A
Connectors: SMA-Female
Dimensions: 2.25 x 4.25 x 2.5 in
Weight: 2.5 oz / 0.07 kg
FCC Mandatory Registration
This is a CONSUMER device. BEFORE USE, you MUST REGISTER THIS DEVICE with your wireless provider and have your provider's consent. Most wireless providers consent to the use of signal boosters. Some providers may not consent to the use of this device on their network. If you are unsure, contact your provider.
You MUST operate this device with approved antennas and cables as specified by the manufacturer. Antennas MUST be installed at least 20 cm (8 inches) from any person.
You MUST cease operating this device immediately if requested by the FCC or a licensed wireless service provider.
WARNING. E911 location information may not be provided or may be inaccurate for calls served by using this device.
Please note, the four largest carriers, namely, AT&T, T-Mobile, Verizon and Sprint, and more than 90 regional carriers have given a blanket consent to all boosters meeting the new certification standards.
Click here
for registration links to the five largest carriers in the country.
Compatibility
Alcatel
Amazon
APPLE
ASUS
AT&T
AUDIOVOX
BLACKBERRY
BLU
CASIO
CAT
CINGULAR
Coolpad
DANGER
DELL
ERICSSON
GARMIN
GOOGLE
HITACHI
HP
HTC
HUAWEI
KYOCERA
LG
Meizu
Microsoft
MOTOROLA
NEC
NetGear
NOKIA
Novatel Wireless
OnePlus
Oppo
PALM
PANASONIC
PANTECH
PCD
QUALCOMM
SAMSUNG
SANYO
SHARP
SIEMENS
Sierra Wireless
SONIM
SONY
Sony Ericsson
SPRINT
T-MOBILE
TOSHIBA
VERIZON
ZTE