weBoost Drive 3G-Flex Cellular Signal Booster Kit
DISCONTINUED
Product Description
weBoost Drive 3G-Flex Cellular Signal Booster Kit
A strong cellular signal is essential, no matter where life takes you. Whether you're commuting to work, checking into your hotel or connecting from your remote workplace, Drive 3G-Flex easily transfers from your vehicle indoors, then back to your vehicle when you're ready to go. It substantially improves your cellular signal strength in any location, giving you the reliable voice and data coverage you need for clearer voice reception, faster downloads and seamless streaming services. With weBoost, staying connected is easier than ever, no matter where you go.
What Gets Boosted / Amplified?
Voice Calls = Yes
2G / 3G Data = Yes
4G Data = No
How The Kit Works
The Amplifier receives the signal coming from the cell tower, amplifies it, and then wirelessly transmits the more powerful signal to your cell phone or data card. It also receives the signal coming from your cell phone or data card, amplifies it, and transmits it back to the tower. It essentially acts as a 2-way hearing aid when a cell phone (or data card) and tower are unable to communicate effectively
Coverage Area
Designed for signal amplification in a small work area, a vehicle, or anywhere a 1 foot distance can be mantained from the cell phone or data card.
Typical Coverage Range: 1-3 foot radius from the indoor antenna depending on initial signal strength and other factors
Expandability: Not Expandable
Due to the many variables involved in determining coverage area such as signal strength, obstructions, composition of walls, placement of equipment, etc., the proposed coverage of any amplifier kit is an estimate at best.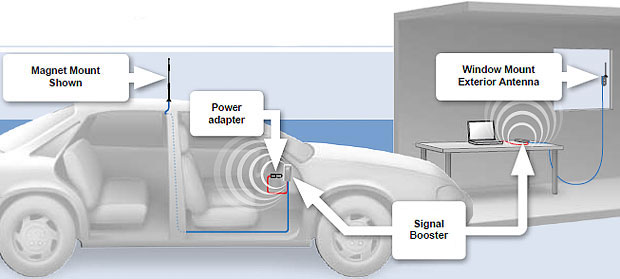 Features and Benefits
Boosts 3G, talk & text on all phones with all carriers
Multiple power options for use in buildings or vehicles
Installs in minutes
For multiple users, best use within 1-3 feet of the booster unit
weBoost booster kits can significantly reduce dropped calls, improve voice quality, extend service range, and increase data rates
Extends the life of your cell phone battery - phones vary their power output based on the strength of the signal (the greater the signal, the less power it uses) so a phone being used with an booster will consume less power
Included Parts
Drive 3G-Flex Signal Booster
Mini-Magnet Mount Antenna
USB power cable with DC power adapter
Antenna Window Mount
AC Power Supply
Vehicle Dash Mounting Kit (Rugged/Screw Mount, Adhesive Mount, Vent Clip Mount, Alcohol Prep Pad)
Documentation
Specifications
Frequency Range: Band 5 (850 MHz), Band 25 (1900 MHz)
Max Gain: 45 dB
Power Req: 5 V 1.5 A
Connectors: SMA-Female
Impedance: 50 ohms
Dimensions: 2 x 5 x 1.25 in
Weight: 3 oz / 0.09 kg
FCC Mandatory Registration
This is a CONSUMER device. BEFORE USE, you MUST REGISTER THIS DEVICE with your wireless provider and have your provider's consent. Most wireless providers consent to the use of signal boosters. Some providers may not consent to the use of this device on their network. If you are unsure, contact your provider.
You MUST operate this device with approved antennas and cables as specified by the manufacturer. Antennas MUST be installed at least 20 cm (8 inches) from any person.

You MUST cease operating this device immediately if requested by the FCC or a licensed wireless service provider.

WARNING. E911 location information may not be provided or may be inaccurate for calls served by using this device.

Please note, the four largest carriers, namely, AT&T, T-Mobile, Verizon and Sprint, and more than 90 regional carriers have given a blanket consent to all boosters meeting the new certification standards.
Click here
for registration links to the five largest carriers in the country.
Compatibility
Alcatel
Amazon
APPLE
ASUS
AT&T
AUDIOVOX
BLACKBERRY
BLU
CASIO
CAT
CINGULAR
Coolpad
DANGER
DELL
ERICSSON
GARMIN
GOOGLE
HITACHI
HP
HTC
HUAWEI
KYOCERA
LENOVO
LG
Meizu
Microsoft
MOTOROLA
NEC
NetGear
NOKIA
Novatel
Novatel Wireless
OnePlus
PALM
PANASONIC
PANTECH
PCD
QUALCOMM
SAMSUNG
SANYO
SHARP
SIEMENS
Sierra Wireless
SONIM
SONY
Sony Ericsson
SPRINT
T-MOBILE
TOSHIBA
VERIZON
Verizon Wireless
ZTE