weBoost Home 3G Cellular Signal Booster Kit
DISCONTINUED
Product Description
weBoost Home 3G Cellular Signal Booster Kit
The weBoost Home 3G is designed to significantly improve your coverage in 1-2 rooms in your home so you no longer have to worry about dead spots. It works especially well in modern, energy efficient buildings known to contain materials that weaken cell signals. Best of all, 3G Home will not only boost your signal on your own cellularly-connected devices—including tablets and laptops—it will also work for everyone else you invite into your home.
How The Kit Works
The Booster receives the signal coming from the cell tower, amplifies it, and then wirelessly transmits the more powerful signal to your cellular device. It also receives the signal coming from your device, amplifies it, and transmits it back to the cell tower. It essentially acts as a 2-way hearing aid when the cellular tower and wireless device are unable to communicate effectively.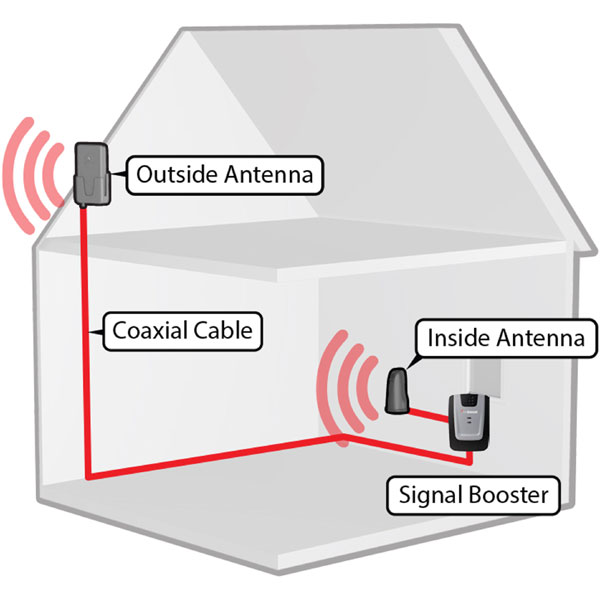 Coverage Area
Intended Use: Designed for signal amplification of a small work space or room
Typical Coverage Range: Typical Coverage Range: Depends on initial signal strength , obstructions, composition of walls, placement of equipment, etc. See table below for coverage estimates
Expandability: Not Expandable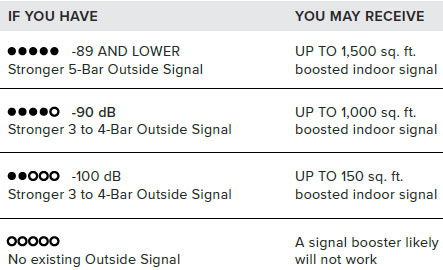 Features and Benefits
Boost 3G, talk & text, reduce dropped calls, improve voice quality, extend service range, and increase data rates on all phones with all carriers
For buildings: home, office, cottage, apartment or SOHO
Easy to install, complete DIY (do-it-yourself) kit
Effective in amplifying the signal for multiple cell phones and data cards simultaneously
There is no physical connection to the phone or data card, so you can move freely during a call or web surfing session
Extends the life of your cell phone battery - phones vary their power output based on the strength of the signal (the greater the signal, the less power it uses) so a phone being used with a booster will consume less power
Specifications
Amplifier Specifications
Frequency Range: Band 5 (850 MHz), Band 2 (1900 MHz)
Max Gain: 60 dB
Power Req: 110-240 V AC, 50-60 Hz, 8 W
Connectors: SMA-Female (inside antenna) F-Female (outside antenna)
Impedance: 75 ohms
Dimensions: 6.3 x 1.4 x 4.2 in
Weight: 0.45 lbs
Package Contents
Home 3G ellular amplifier/ repeater
Inside desktop antenna
Outside panel antenna
Power supply
1 x 30' + 1 x 20' White low loss RG6 (75ohm) coax cable
F-Female barrel connector
Installation manual/ instructions
Documentation
FCC Mandatory Registration
This is a CONSUMER device. BEFORE USE, you MUST REGISTER THIS DEVICE with your wireless provider and have your provider's consent. Most wireless providers consent to the use of signal boosters. Some providers may not consent to the use of this device on their network. If you are unsure, contact your provider.
You MUST operate this device with approved antennas and cables as specified by the manufacturer. Antennas MUST be installed at least 20 cm (8 inches) from any person.
You MUST cease operating this device immediately if requested by the FCC or a licensed wireless service provider.
WARNING. E911 location information may not be provided or may be inaccurate for calls served by using this device.
Please note, the four largest carriers, namely, AT&T, T-Mobile, Verizon and Sprint, and more than 90 regional carriers have given a blanket consent to all boosters meeting the new certification standards.
Click here
for registration links to the five largest carriers in the country.
Compatibility
Alcatel
Amazon
APPLE
ASUS
AT&T
AUDIOVOX
BLACKBERRY
BLU
CASIO
CAT
CINGULAR
Coolpad
DANGER
DELL
ERICSSON
GARMIN
GOOGLE
HITACHI
HP
HTC
HUAWEI
KYOCERA
LENOVO
LG
Meizu
Microsoft
MOTOROLA
NEC
NetGear
NOKIA
Novatel
Novatel Wireless
OnePlus
PALM
PANASONIC
PANTECH
PCD
QUALCOMM
SAMSUNG
SANYO
SHARP
SIEMENS
Sierra Wireless
SONIM
SONY
Sony Ericsson
SPRINT
T-MOBILE
TOSHIBA
VERIZON
Verizon Wireless
ZTE