Case-Mate Fuel Charging Holster With Rotating Belt Clip
DISCONTINUED BY MANUFACTURER
Product Description
Case-Mate Fuel Charging Holster With Rotating Belt Clip
The Case-Mate iPhone 3G Fuel is a protective case, carrying solution, and extended battery life all in one. So from here on out youre good to charge on the go. So the next time youre rushing to get to the airport at 6am and you forget your charger...relax, your iPhone 3G is taken care of. Now you can focus on hitting up Starbucks and get to recharging yourself.
Additional hours beyond standard iPhone 3G battery life:
Talk time: up to 9 additional hours
Internet use: up to 7 additional hours
Video playback: up to 8 additional
Audio playback: up to 24 additional hours
Stand by time: up to 250 additional hours



Features

Power on/off button makes more efficient usage of the Fuel by only engaging when you decide to
Rechargeable through included miniUSB cable
Fully supports syncing while iPhone 3G is docked in the Fuel
Fully ratcheting 180-degree belt clip
Easy slide in/out access to your iPhone 3G



Included Parts

USB Charging Cable (miniUSB)



Accessories / Replacement Parts

Car Charger



Product Documentation

FAQ



TROUBLESHOOTING TIP


If the IFUEL-BLK is not charging your iPhone, please make sure it is turned on by pressing the power button on the lower left of the holster.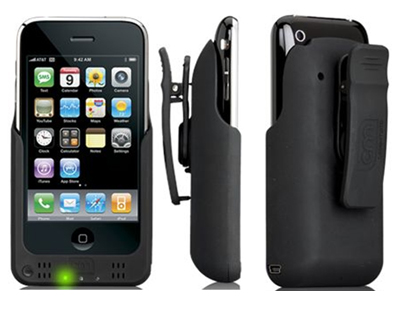 Compatibility
iPhone 3G/3GS