How Many Drops Does it Take to Crack Your Phone?
Posted on Jul 7th 2017
The more phones that move to an end-to-end display containing all-glass the more fragile they become. This means that while the phones themselves become more expensive the likelihood they crack and break has increased. While this test was conducted on the new Samsung Galaxy S8, the idea that it would be applicable for the new iPhone 8 is an extremely high likelihood. As we can see below, how many drops it takes to actually crack the phone's exterior isn't much.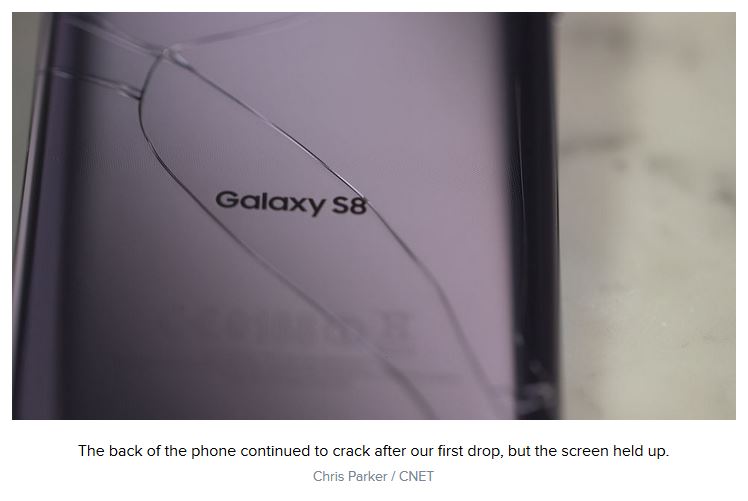 Hip-height drop
Whether you're pulling your phone out of your pocket or slipping it back into your purse, it's likely you're going to drop it from this height at some point. While a drop onto a hardwood floor might be relatively safe, tile and concrete could spell disaster if you don't have a case on the phone.
For our test, we dropped the S8 (sans case, of course) onto a concrete sidewalk with the phone held vertically from about 3 feet (1m).
A slow-motion replay showed the bottom metal frame hit the ground first, bounced back and landed screen side up.
The damage
The first hit made two small dents on the metal border, and the glass on the back had a small crack on the top-right corner. This damage was minor, though, and the screen was still intact, so we continued with our next test.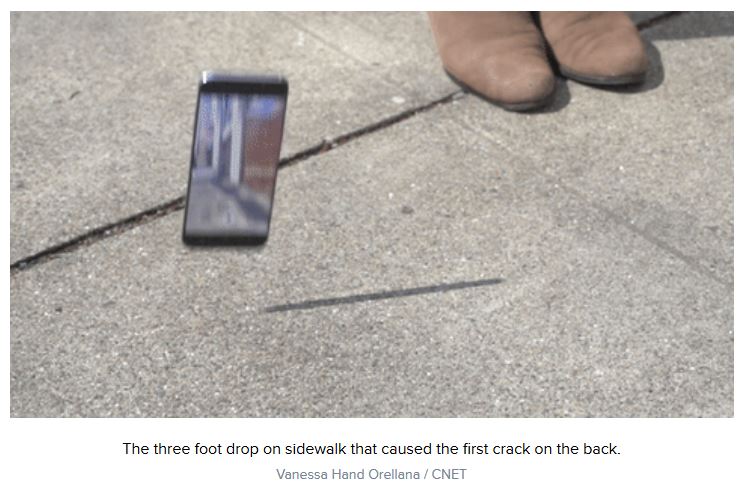 Eye-level drop
Most of us take our pics at around eye-level, and for a phone as slick and smooth as the Galaxy S8, maintaining an assured grip can be tough.
We set our next drop at 5 feet, slightly lower than the 1.6 meter claim Corning claims Gorilla Glass 5 can withstand. The S8 was dropped horizontally (edge down) onto a stone tile floor.
The edge hit first, slightly angled towards the screen side of the phone, then hit screen side down once before bouncing once more to its final screen-side-up landing.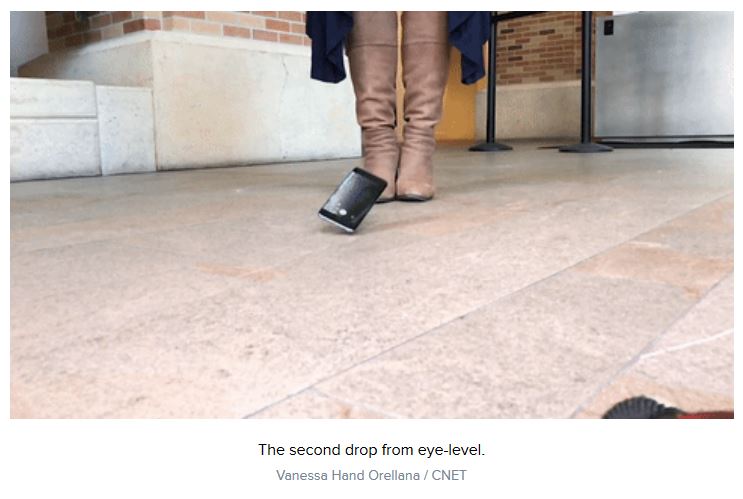 The damage
The metal border had a few more dings and bruises, but most of the damage was on the back. The small crack from the previous drop grew into a web that extended across the entire backside of the phone. But the screen was surprisingly still in good shape. Despite the damage, we decided to put the S8 through one final test to see if we could break the screen.
Source: CNET
iPhone 7 & 7 Plus cases HERE
Samsung Galaxy S8 & S8 Plus HERE