What You Need to Know About Quick Charge 2.0
Posted on Sep 30th 2015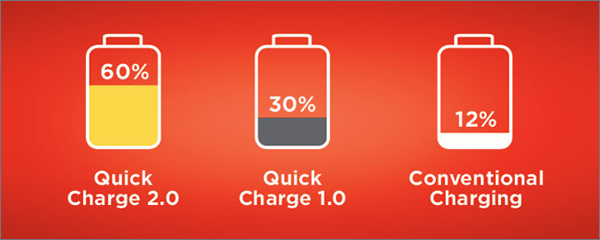 Heavy smartphone users know that a drained battery is the biggest enemy of productivity. Tethering yourself to a wall outlet for half an hour to get only a 10 percent charge isn't always practical for professionals who are frequently on the move. While evolution in battery technology has been slow relative to advances in mobile technology as a whole, a new charging format can guarantee up to 75% faster charge times of compatible flagship phones.
What is Quick Charge 2.0 Technology?
Quick Charge 2.0 is a technology that drastically decreases the charging time of devices by increasing the rate at which power can be transferred to your device.

How Exactly Does Quick Charge 2.0 Work?
A chipset in the Quick Charge charger communicates with a matching chipset in the Quick Charge enabled phone or tablet. Once the charger is connected, the chipsets recognize one another and "shake hands" electronically. This enables the device (which MUST be Quick Charge certified) to charge at a higher rate than standard chargers.
What are the Benefits of Quick Charge 2.0
Quick Charge 2.0 technology charges your mobile device up to 75% faster than the standard method that we're more familiar with. For example: if your phone's battery (let's say a 3000 mAh) were completely dead, with the Quick Charge it would reach a half full (or 50%) in about 30 minutes or less. With the standard charging method, this would take approximately 120 minutes.
Which Devices are Quick Charge Compatible?
Quick Charge 2.0 technology will only work on compatible devices (sorry, no Apple devices yet). Some of the newer phones that are compatible include:
Quick Charge 2.0 chargers will charge your non-QC devices, just at a slower rate.
For more information on Quick Charge 2.0 chargers and compatible phones, contact our CAFL Customer Service Team today at 310-220-2250 or send us an inquiry via email.