Posted on Sep 30th 2015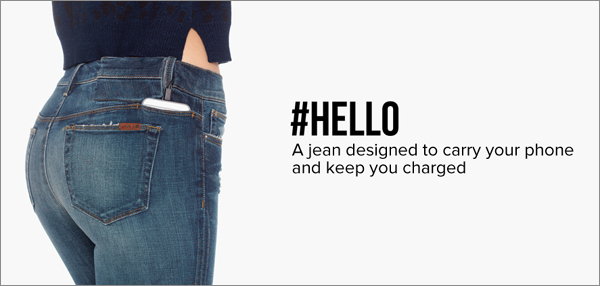 Portable chargers are a popular trend in phone accessories - but one company is hoping to make them a hot fashion trend this season too. Joe's Jeans, a high-end denim and fashion brand based in Los Angeles, has launched a line of jeans specifically designed with charging in mind.
The #Hello line of jeans features two special pockets - one that specifically fits an iPhone and another that discreetly carries an ultra-slim battery pack. Fashion-forward ladies can now keep their phone accessible and charged and their rears looking good. The only problem we have with the style is the price - the jeans will set you back about $200 and the battery is sold seperately, for $50. But for women who constantly struggle with cramming a phone and a portable charger in the pockets of their skinny jeans, this could be a small price to pay.