Transform Your iPad and Boost Productivity with the ClamCase
Posted on Jul 27th 2015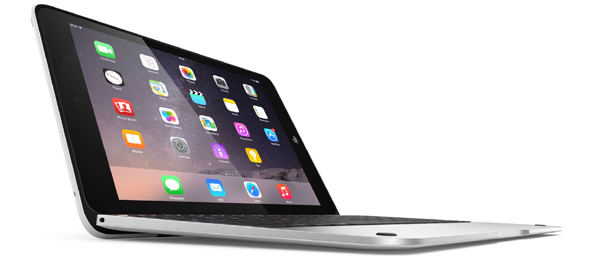 You purchased your iPad for its powerful performance and thin design. But when it comes to typing out emails, assignments or even simple web searches, the touchscreen keys can leave much to be desired. The new ClamCase Pro from Incipio is a solution for business and personal users alike that will add style and functionality to your iPad.
The ClamCase is a sleek and lightweight keyboard case that provides coveted stylish protection, a robust aluminum keyboard and a versatile 360° stand that's adjustable for any use. A few of our favorite features are listed below.

Simple ClamCase Installation in Just a "Snap"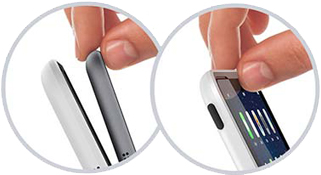 Slipping your iPad into a ClamCase Pro is easy. With a simple slide and snap, you'll be done in a matter of seconds and ready to type. For the times when you don't need a keyboard, taking the ClamCase off of your iPad is just as simple.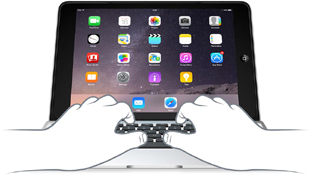 Roomy Keys for Accurate and Comfortable Typing
The ClamCase's elevated, island style keys provide a crisp and accurate typing experience, whether you're working to meet a deadline or typing an email while waiting at the airport. According to an ABC News test, ClamCase allowed typing at about 76 words per minute, not bad for mobile typing.



Versatile and Flexible Use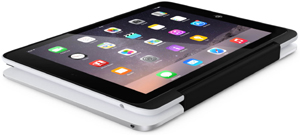 Utilize the Clam's versatile 360° stand and use your device as a tablet, touch screen, or laptop. Enjoy the option of the full QWERTY keyboard, the adjustable 360° hinge, or simply flipping back the keyboard for unmatched versatility. Also, the rechargable lithium-ion battery allows for months of use on one charge so you can do more while charging less.


Sleek and Stylish Exterior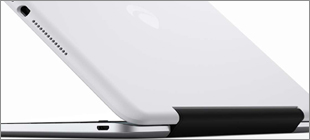 Constructed from bead blasted aluminum, the exterior of the ClamCase Pro features scratch-resistant polycarbonate and soft touch coating for style. Currently available in White, Black and Silver.
Do you have any questions regarding the ClamCase Pro? Speak to one of our Customer Experience team members today at 310-220-2250 or email us your inquiries!