Bluelounge Portiko USB Charging Station & AC Outlet Extention
Portiko, a 6-foot extension cord, was created to expand the functionality of a single socket and create a hub to work from. Ideal for shared workspace, living areas or hotel rooms, Portiko brings power to you. Portiko has two 110V outlets and two USB ports.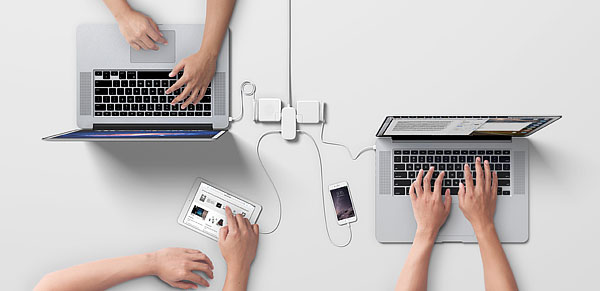 Features:
Ideal for shared workspaces, living areas, hotel rooms, and conventions
Keeps other sockets accessible so there is no need to rearrange what is already plugged in or block a free socket
With two 110V outlets and two USB ports, you can plug in two laptops, a tablet and a phone at once
One USB port is dedicated for iOS devices to charge at full speed
An optional self-adhesive metal plate (included) allows for Portiko to be mounted on a wall or desk
Cable slack can be looped around the Portiko when not in use
Specifications:
Package Contents: One Portiko and one magnetic adhesive plate
Dimensions: 4.37 x 2 x 0.14 in
USB output: 2.1A total shared between both USB ports
Main Body: ABS fire retardant plastic
Plug: PVC fire retardant plastic
Extension cord length: 6 ft.